POUR UN STADE BOLLAERT DELELIS 100% LENSOIS !
Il convient de dire qu'un stade est une figure emblématique et historique d'un club et que ce dernier doit en marquer intégralement son identité, son âme, et de reconnaître que nous sommes bien au domicile du club résidant de l'enceinte ! Lors de la rénovation pour l'euro 2016 de football qui a couté plus de 70M€ HT, on nous a annoncé que Bollaert Delelis aurait un intérieur coloré, et que les couleurs seront representées et réservées au coeur de l'enceinte Artésienne !
Mais est ce que cela a été totalement respecté ? On nous a mentionné aussi, que
les supporters ne voulaient pas d'un stade coloré comme le MMaréna, et que nous avions été consulté....
Est que cela est la vérité ? NON, ces sièges en " mode témoin " étaient déjà présent au stade Bollaert Delelis depuis le mois de septembre 2014, soit au tout début des travaux de l'enceinte comme en témoigne cette photo de gauche. 
Le stade Bollaert Delelis de l'intérieur est à l'opposé de ce que nous espérions ! En effet les couleurs du club y sont representées où ? Dans les coursives, oui, les escaliers oui et le reste ? Les sièges dans tout çà ?
Les sièges sont l'aspect le plus visuel dans un stade, et donc le point le plus important qui représente le coeur de l'enceinte. Ce sont ces derniers qui donne l'aspect définitif du stade ! Est ce que ces derniers représentent l'identité Lensoise ? NON ! Les décideurs du projet ont décidé d'aller à l'opposé de l'identité Lensoise "Sang et Or"qu'avait le stade dans sa version avant travaux, pour nous donner un stade de couleur blanc, gris et noir ! Nous sommes les sang et or ! Il est inconcevable que le stade Bollaert Delelis ne soit à nos couleurs et que les 38.223 sièges ne le sont pas ! Les exemples sont multiples en France :
Geoffroy Guichard  (Saint Etienne) et le nouveau Parc Olympique Lyonnais ( stade de l'Euro 2016 )  : 


Le Roahzon Park : ( Stade Rennais, changement des sièges aux couleurs du club, non retenu pour l'Euro 2016 ) :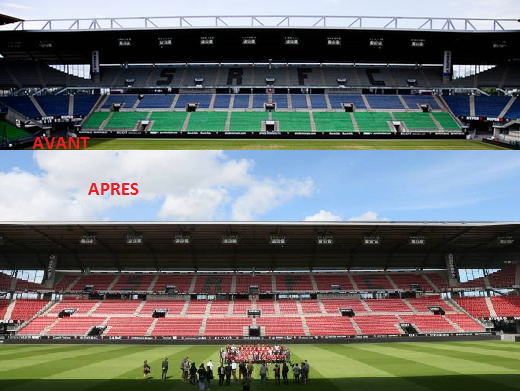 On peut se demander le but des couleurs choisies ... Le rouge et le jaune orangé sont des couleurs chaudes, et alors que le noir, gris et blanc,et qui sont des couleurs froides et cela donne une  ambiance froide du futur Bollaert fraichement rénové ! Chaque club doit avoir un stade qui lui ressemble et qui respecte le blason et les couleurs du club ! 
Et ce choix n'est pas totalement respecté au sein de notre stade ! Un stade vide comme plein , se doit d'être sang et or ! Il n'est pas trop tard pour revoir cette erreur de casting ! Pourquoi les décideurs ont pris une telle décision et ne pas prendre l'avis des supporters sur ce sujet ?
Il n'y a qu'a voir le stade du stade rennais, ce club a compris qu'un stade aux couleurs du club donne une autre allure au stade ! Et oui, le Stade Rennais joue en rouge et noir et non en vert , bleu et gris et noir !
Le ROAZHON PARK a une toute autre allure visuel !   Comme le montre la photo de gauche (AVANT / APRES).
Suite à cela,  nous demandons à ce que nos couleurs soient respectées au sein de celui-ci ! Il est avant tout celui des Lensois et de ces supporters et du RC Lens ! Nous sommes en droit d'avoir leur couleurs au sein de notre enceinte ! Des couleurs chaudes et chaleureuses qui en font la réputation de Bollaert-Delelis. L'identité Lensoise doit être respectée comme elle a été respectée lors de sa rénovation de 1998 pour la coupe du monde de football que la ville de Lens a acceuilli !
Des sièges adaptés pour un KOP !
Chose aussi qui est inadaptée pour l'enceinte artésienne , il s'agit bien entendu des sièges dans le KOP TONY MAREK ! En effet, mettre des sièges rabattables n'a évidemment aucun sens dans une tribune dite active, très en mouvement qui est le poumon de Bollaert - Delelis ! Lors d'un but par exemple, c'est " casse-gueule " et certains peuvent se blesser !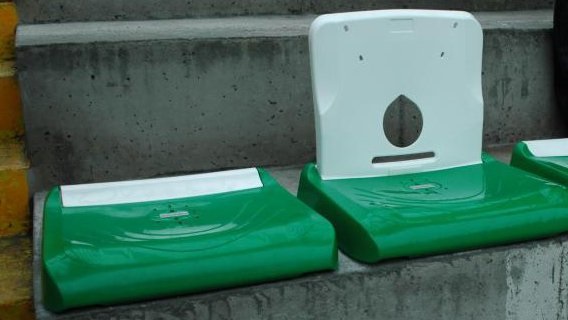 Cela c'est produit en effet plusieurs fois cette saison ! Et des solutions, il y en a. Saint Etienne a trouvé une solution qui convient parfaitement aux kops nord et sud !
Le système est bien pensé pour répondre aux exigences de l'UEFA, qui impose la mise en place de sièges avec dossiers pour l'Euro 2016, tout en permettant aux supporters de continuer à participer à l'animation des tribunes populaires. Le stade a adopté un concept de siège à double configuration : sièges à dossier pour tous les matchs de l'Euro 2016 et de l'UEFA et à dossier rabattu pour les matchs de Ligue 1! Ces sièges ont été réalisé par l'entreprise GROSFILLEX basé en France !
Il s'agit d'un siège dont le dossier se rabat dans l'assise et non l'inverses comme c'est le cas des sièges en KOP du stade Bollaert! Pour mettre le dossier, il suffit d'ouvrir l'assise du siège à l'aide d'une clé et le dossier s'ouvre ! Cette solutioin respecte l'UEFA car se dernier fait parti des stades retenus pour l'Euro 2016 ! 
J'en appel les décideurs à revoir leur position et de respecter le choix des supporters et non aller à l'encontre de ces derniers ! Voici les modèles présentés aux supporters , le résultat a fait bien plus qu'une large majorité d'adepte à ces rendus ! En rouge et jaune tout est possible ( exemple le MMaréna du Mans FC par exemple etc...) ! Le modèle avec la lampe de mineur a fait beaucoup d'adapte, mélangeant histoire et le présent !
J'en appel aux diffèrentes sections de supporters présent en Marek où d'autres tribunes, où de tous horizon, supporters, supportrices du RC LENS, ou du football en général, à soutenir cette démarche qui n'est pas une simple leçon de beauté , c'est la base d'un stade de foot ou l'identité telle que la notre, qui est sang et or !
NON  à la neutralité !! OUI pour un stade à nos couleurs ! OUI un pour stade SANG ET OR !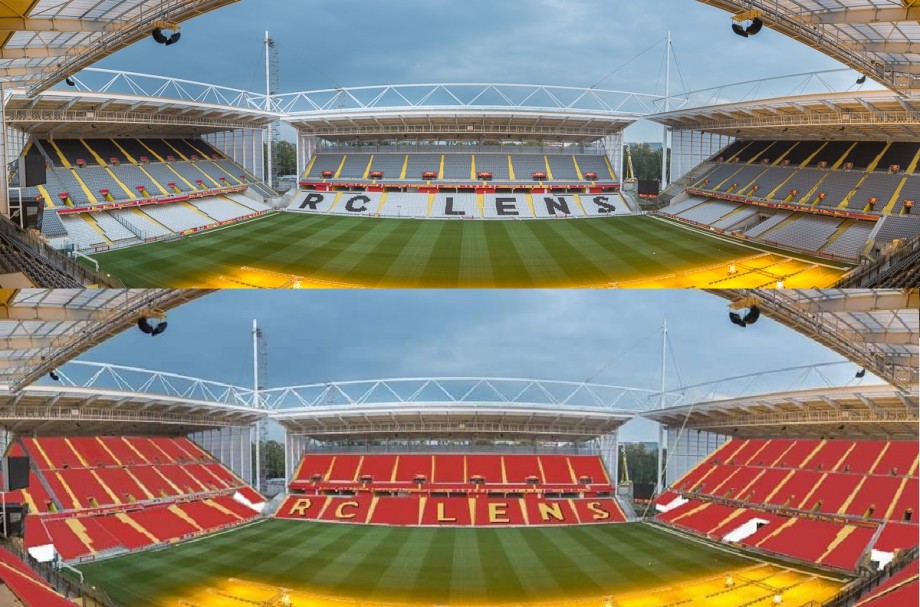 Autre style : le côté minier rappelant l'histoire, mélangé aux couleurs sang et or !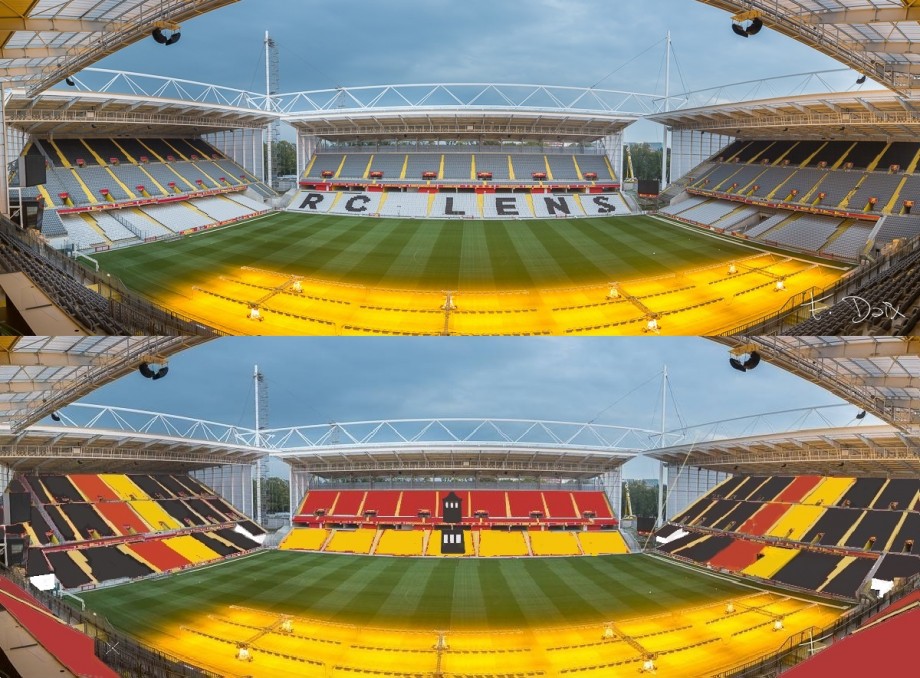 Subscribe hanc appellationem
By signing, I authorize BENOIT62 to hand over my signature to those who have power on this issue.